annual subscription includes four copies of the limited edition b.nourished quarterly planner – mailed to you on a quarterly basis

available in two styles: black with b.nourished tagline or sage with b.nourished symbol

orders placed now will ship on November 1, 2020

special launch bonuses available only with purchase of year package (expires October 16th)
get sh!t done without coming undone.
This is more than just a notebook to keep track of your appointments. It is a trusted guide helping you honor your commitments to yourself with the same sense of urgency and responsibility you approach external commitments.
With the b.nourished framework self-care is not crammed into and then dismissed in the dwindling hours of the day. Instead, it takes center stage as an effective strategy for greater focus and impact.
Includes daily, weekly, monthly, and quarterly opportunities to celebrate success, and pivot or recalibrate where needed.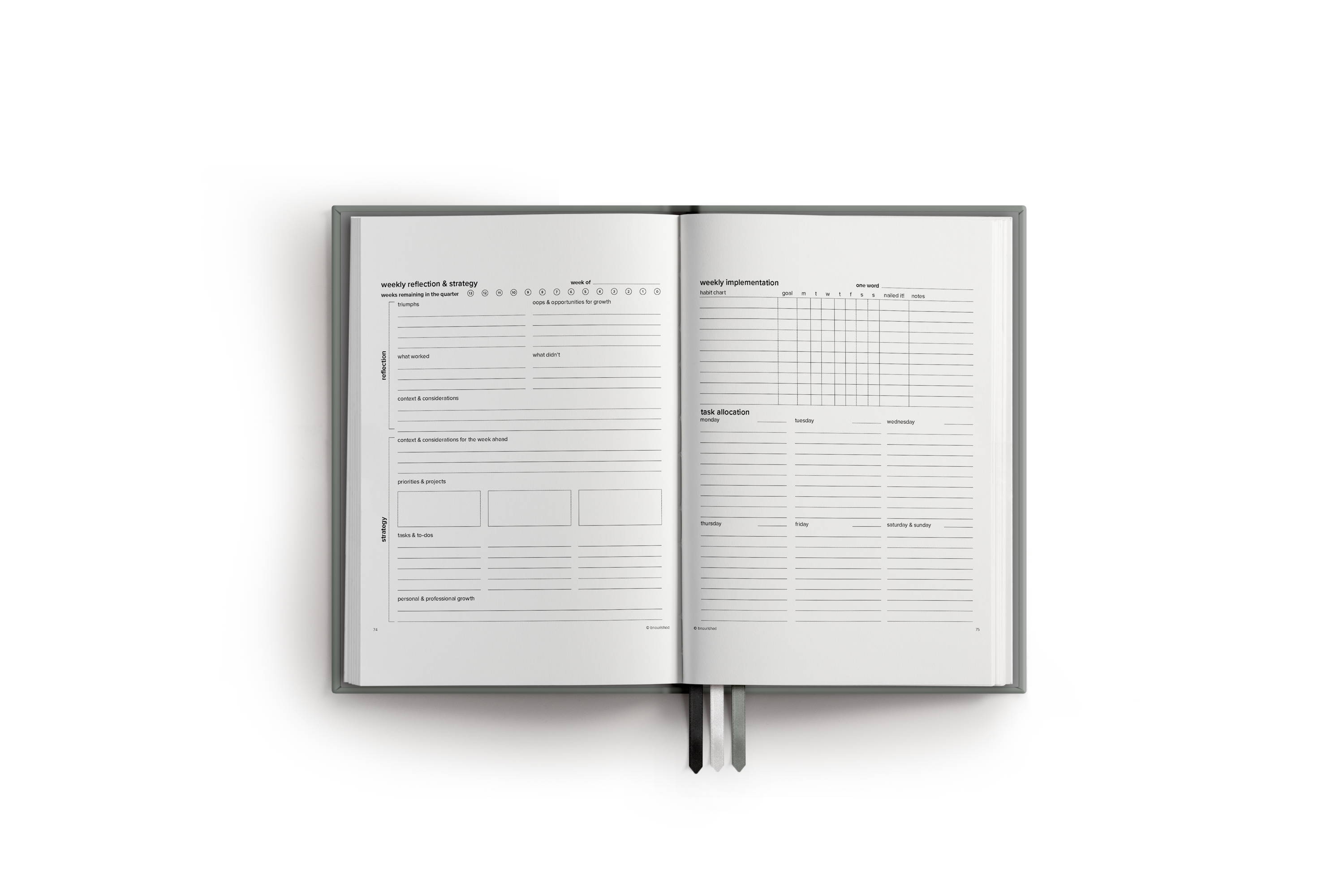 This planner helps you turn your gaze reflectively inward for peace of mind, and strategically outward for success.
the planner you didn't know you were waiting for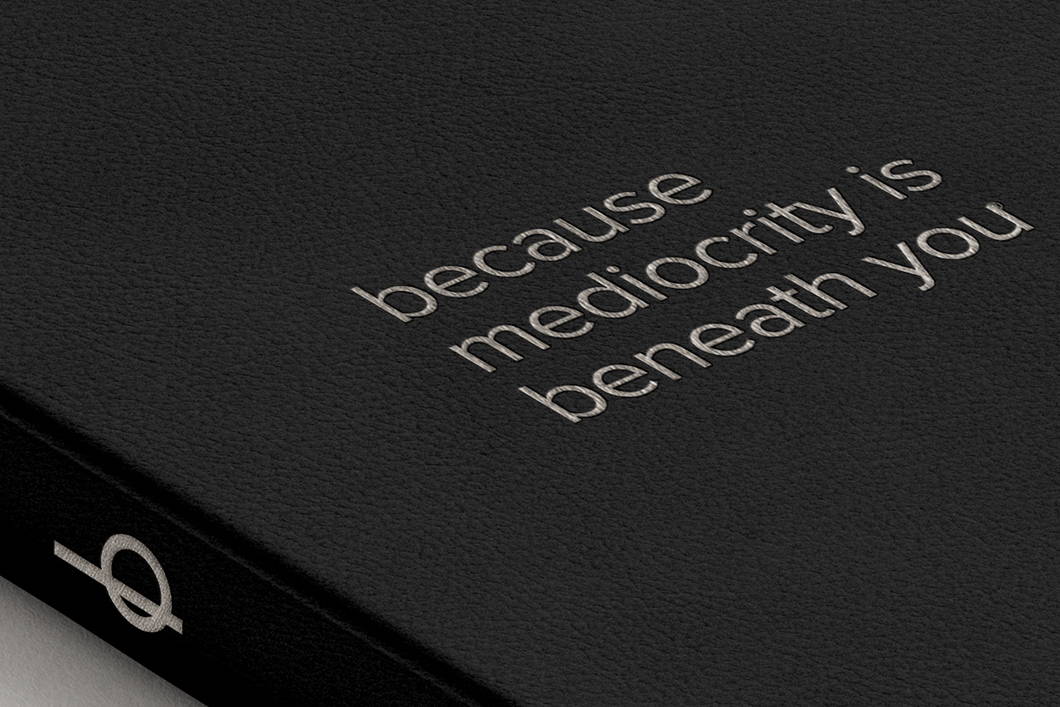 sophisticated design reminds you of your standards of quality and encourages frequent interaction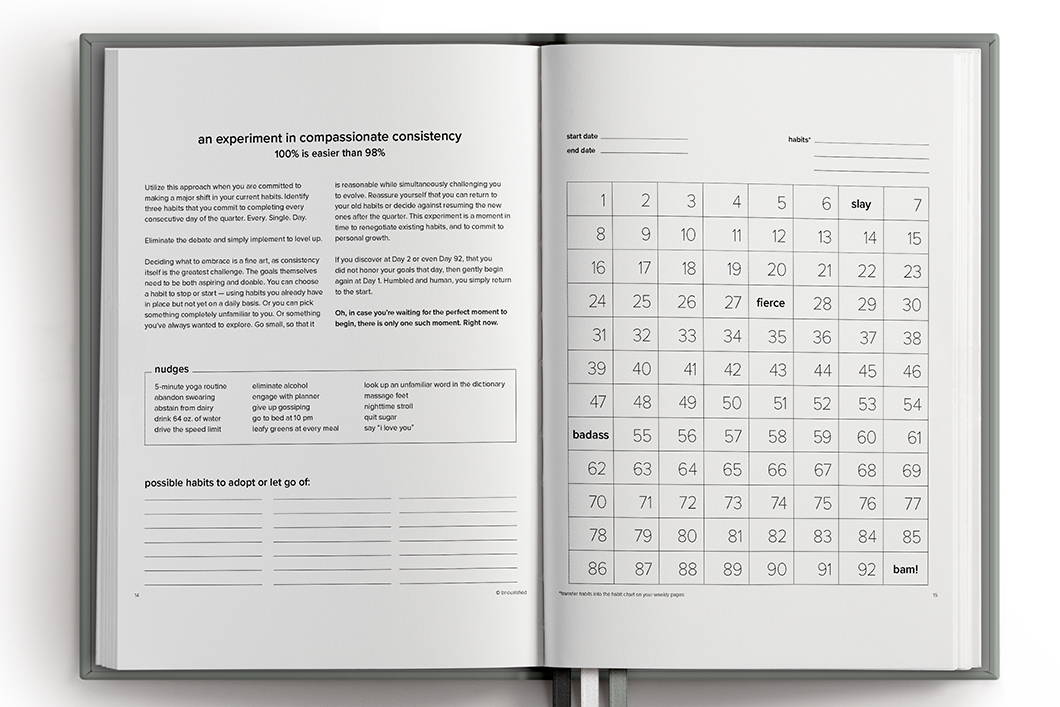 proven coaching tools for self-reflection and personal and professional growth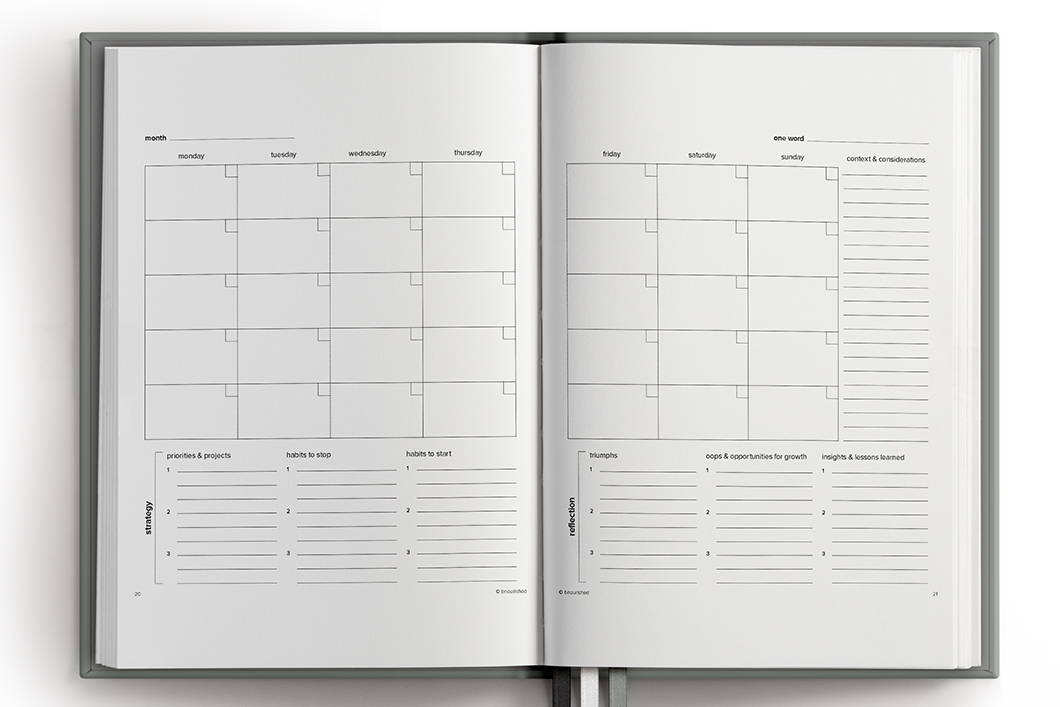 monthly goal, dream week, and daily routine layouts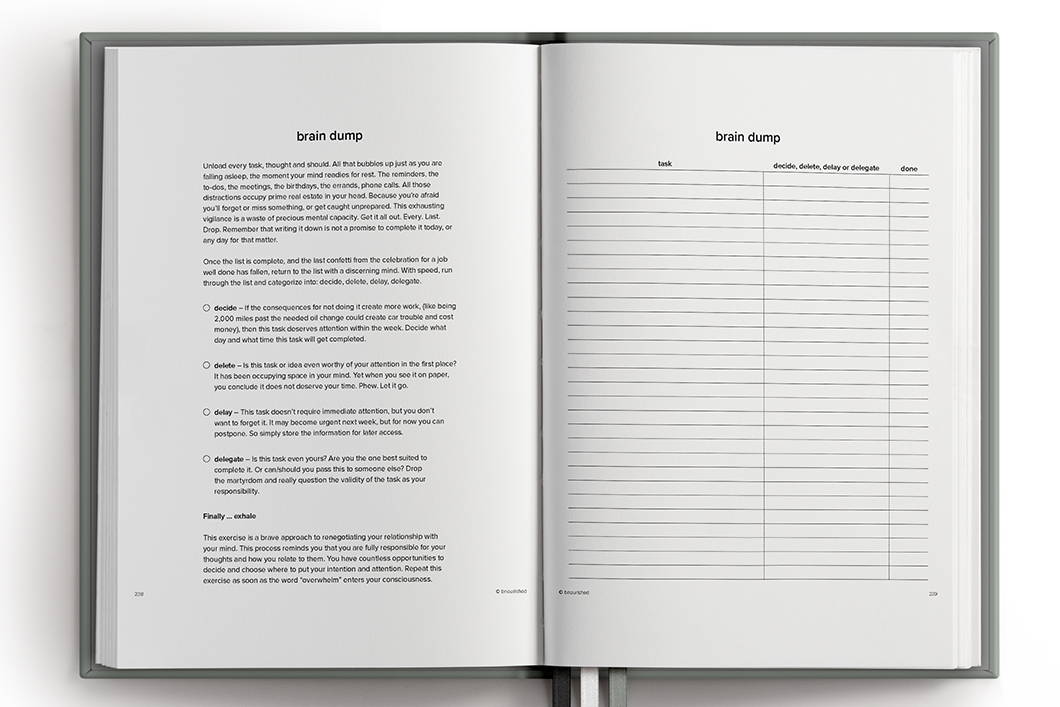 larger, lay-flat format – preserving space for capturing thoughts, observations, insights, and more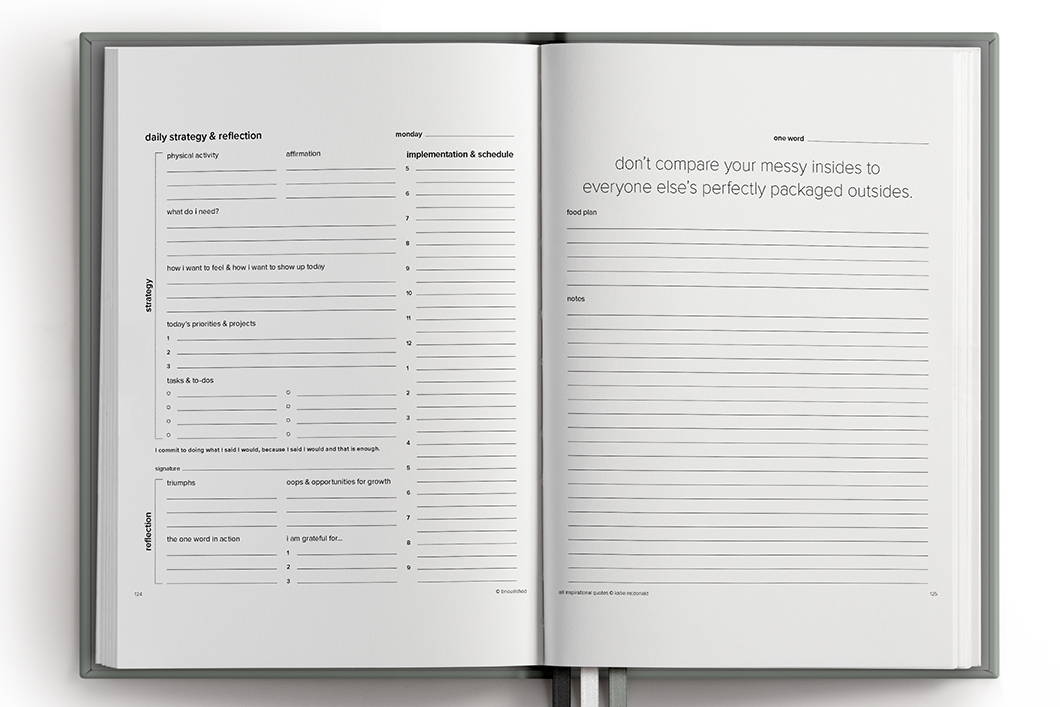 daily achievement strategies ensuring traction instead of distraction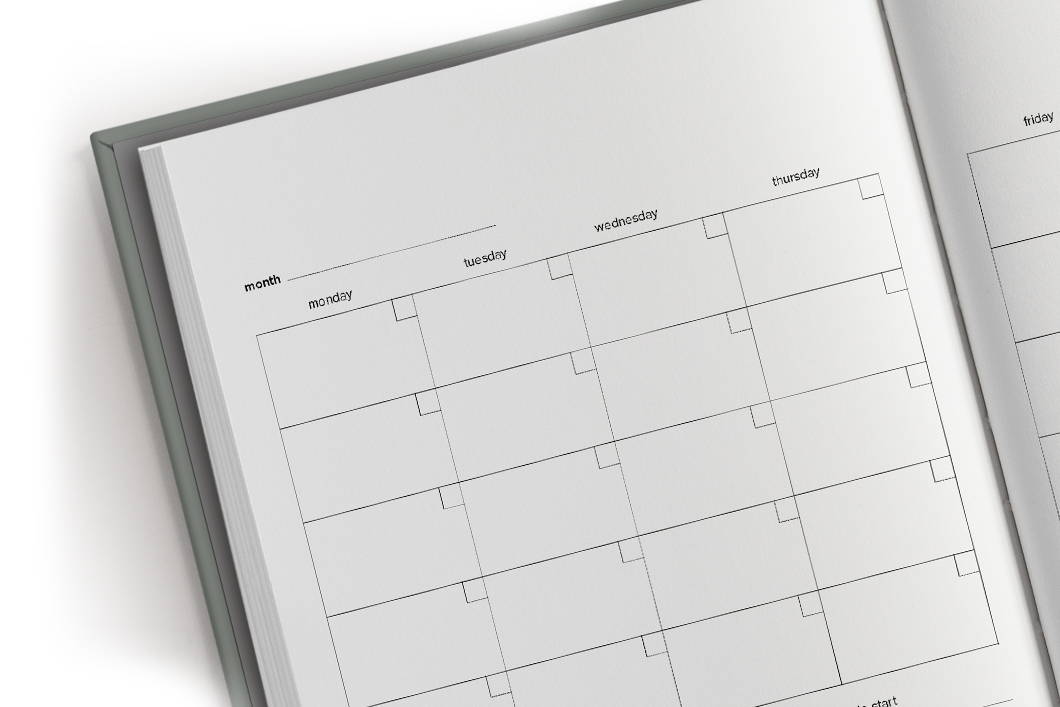 undated so that you can begin at any time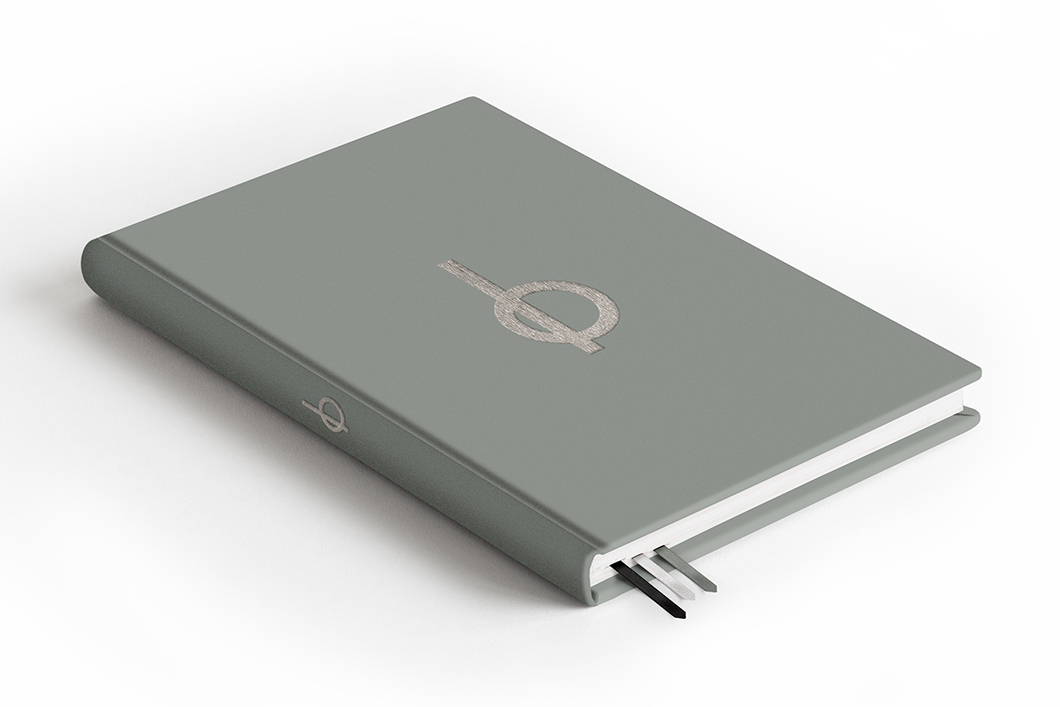 256 pages | 80 lb paper | 8" x 9 1/4"
The mission of b.nourished is to transform your relationship with yourself for good by cultivating nourishing self-care rituals that reflect a deep respect for your body, mind, and your undeniable drive to get sh!t done.
"The b.nourished planner has distilled decades of research, best practices and 10+ years of holistic executive coaching for high achievers who prioritize focus and wellbeing. It's the planner I crave for myself and my clients because being well and being productive are not mutually exclusive."
Katie McDonald, founder of b.nourished
our founder has been featured in

your quarterly planner, daily paper coach
This quarterly planner holds you accountable to your goals, and challenges you to keep your word to yourself.
STEP 1.
With the planner in your hands for the first time, complete the whole life assessment and other exercises to visualize any imbalances in your life and extract your priorities.
STEP 2.
Start using the b.nourished planner multiple times a day (wake up, lunch, dinner, bedtime) to reaffirm your priorities, remember what's important, pivot when needed, and stay anchored to your vision for the day.
STEP 3.
At the end of each quarter assess your existing routines and use the b.nourished system to study and celebrate what worked while exposing opportunities for growth.
The b.nourished approach mitigates reactivity and prioritizes reflection and deliberate action.
craft your best quarter ever
Our digital course (included for free) will onboard you to the b.nourished methodology with simple and transformative lessons for maximizing the planner's potential, while building your muscles of consistency and accountability. Learn the best practices while staying true to yourself and making it work for you.
You will be empowered to repair the relationship you have with yourself, with tasks, with time and learn how to use the planner as a tool for self-accountability.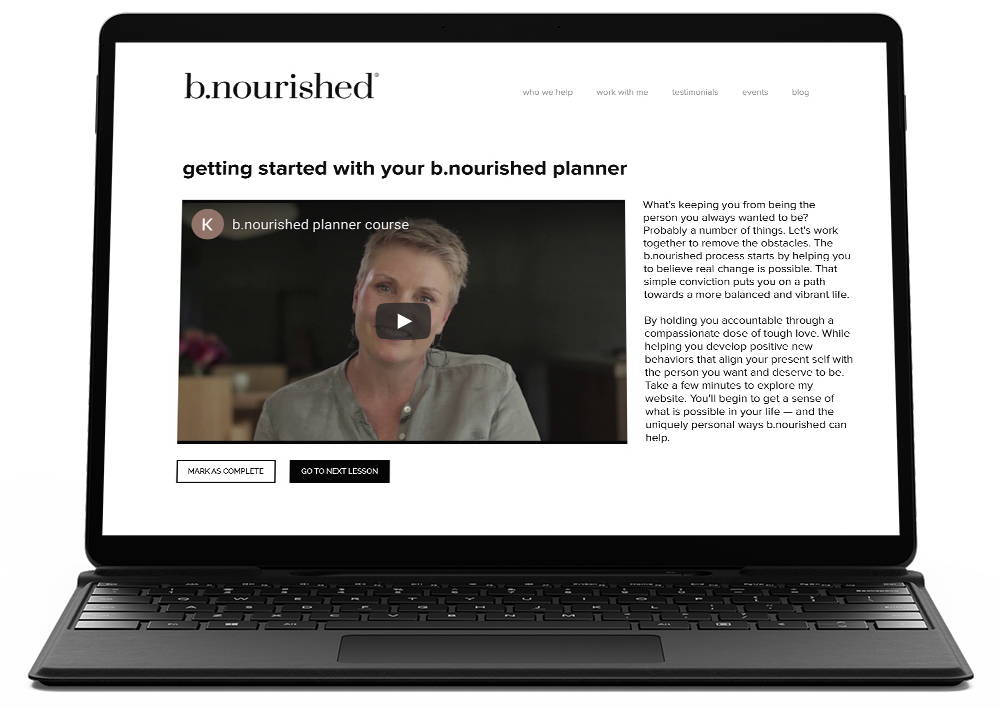 new b.nourished video course included with your purchase
what if you were able to shift from reactivity to intentionality?
In a society addicted to busyness, it's easy to forget the responsibility we have to ourselves and our health. Sometimes you need that gentle reminder to invest in yourself, for not only you, but for your career, family, and legacy.
A more evolved version of you means better relationships across the spectrum of your life. We can no longer get away with self-neglect. Eventually it will catch up with us and negatively impact everything that truly matters to us.
Committed to using the b.nourished planner, you will have the mental clarity to strategically craft your day with intentionality. Reactivity will be so yesterday… The planner does not force an unnatural separation of self-care and productivity, but instead reinforces and leverages that intimate connection.
We've discovered that when you shift from reactivity into intentionality, absolutely EVERYTHING changes! The impact is dramatic and the peace of mind is immediate. You will not only be able to articulate your day's plans, you will unapologetically defend them. Confidence is an inevitable result because you did what you said you were going to do.

the b.nourished guarantee
30-day money back guarantee. All we ask is what we could have done better.
some real results from b.nourished
"For years, I have been reactive to life instead of intentional, and now that I have learned how to be intentional, and care for myself, everyone else including me is better because of it. There is such a direct correlation of self-care to my success, health, and happiness."
–STEPH
"Before working with Katie, I had trouble seeing myself as the leader that I am. She helped me practice things that would nourish my spirit and have allowed me to take a step back and re-evaluate what I want out of my work and my life. Going forward, I know that I have a toolbox full of tools that will continue to help me prioritize myself as I move forward in my career and my life - which I know will only benefit my work & the people I choose to surround myself with."
–SUE
"Katie helped me take small steps to make more "me" time, while maintaining a busy and unconventional work schedule. She gave me the space and confidence to figure things out for myself — then checked in and stepped in at different points to lend support. Initially I was doing this to gain more information on nutrition, but I gained a wealth of knowledge in other areas that needed attention. Creating the balance I was craving to living a more fulfilled and happy life."
–BARBARA
The following bonuses are available only when you purchase an annual pack.
bonus 1 – set of Pilot Frixion® erasable pens
When you buy a year package (4 planners), you receive a custom branded set of 7 Pilot Frixion® rainbow erasable pens. Because you have the right to change your mind.
bonus 2 – lock in our lowest pricing now and for all your future orders
LIFETIME access to our lowest pricing ever on the b.nourished planner
bonus 3 – how to plan a personal retreat workshop
You will receive an exclusive invitation to my workshop on how to plan a personal and professional retreat. This workshop, available in November, will give you a blueprint for how to review your personal and professional life on an annual basis.
Every year I embark on a retreat. The retreat part is the packing up and heading to a fabulously luxurious hotel with a spa ( a must) at off season prices! The rest is anything but a retreat. In fact it is an immersion a deep dive into the past year and a vision for the future in order to intentionally set up the year ahead.
bnourished clients learn how to craft their own. How to live with clarity and intentionality.
Now you will get access to the how of this transformative approach. That is, if you reserve your planners now.
want more b.nourished planners?